About the My Brain™ Movement

The My Brain Movement calls on 1 million women to use their amazing brains to help wipe out Alzheimer's disease — one of the greatest threats to women's health.
We believe women have the passion and the strength to make real change. By using our collective brainpower and voices, we can create awareness of the impact Alzheimer's has on our health, our families and our nation. We can use our voices on Capitol Hill to increase funding for research and care. And we can make an impact by donating, volunteering and getting involved.
Together, we are stronger.
Your Brain Matters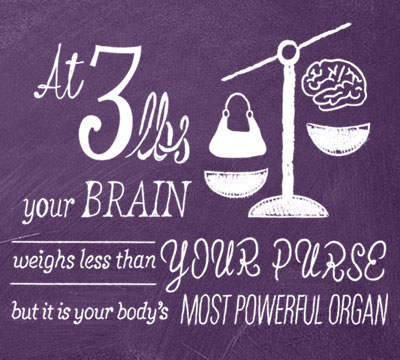 A woman's brain is her most valuable asset. At 3 pounds, your brain weighs less than your purse, yet it is your body's most powerful organ. It controls thinking, breathing and movement. It gives you your sense of passion. Your sense of humor. Your sense of purpose.
Like your purse, you take your brain with you wherever you go. You would never leave it behind.
But Alzheimer's disease is forcing too many of us to leave our brains behind. In the United States alone, nearly 13 million women are either living with or caring for someone with Alzheimer's disease. This devastating disease places an unbalanced burden on women at work and at home, forcing them to make unwanted choices about their careers, relationships and other life decisions.
The My Brain movement is a collective commitment to take action and make change for future generations. We are women working together to wipe out Alzheimer's disease.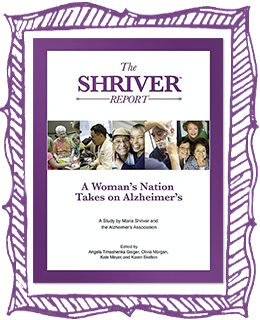 Inspired by the Shriver Report, Powered by the Alzheimer's Association
In 2010, the Alzheimer's Association partnered with Maria Shriver and The Shriver Report to conduct a groundbreaking poll on the compelling connection between Alzheimer's disease and women. Results from the poll were published in The Shriver Report: A Woman's Nation Takes on Alzheimer's and revealed the striking impact of the disease has on women — women living with the disease, women who are caregivers, and woman whose relatives, friends and loved ones are directly affected.. It launched a national conversation about the far-reaching consequences of this disease and inspired the creation of the Alzheimer's Association My Brain movement..
The My Brain movement is led by the Alzheimer's Association, whose mission is "To eliminate Alzheimer's disease through the advancement of research; to provide and enhance care and support for all affected; and to reduce the risk of dementia through the promotion of brain health."